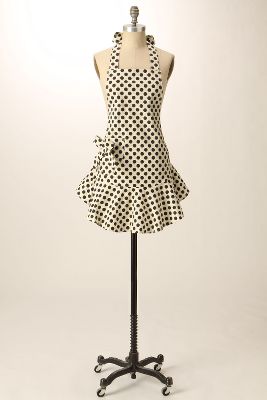 I was strolling through anthropologie the other day when I saw a very kewl polka dot dress – only to realise that it was an apron! What the what?! So then I got to thinking..when did aprons become..fashion? What happened to the good ole glossy laminated aprons of yesteryear with recipes or bawdy cartoon drawings on them? Today's apron looks like an outfit if paired with the right shoes and accessories.
The above creation is definitely an apron for that fancy dinner party – it's called 'The Lady's Apron' and is available at Anthropologie for $32.
Below is a great casual dark washed denim apron, which I think would be great for a bloke or the more rustic relaxed dinner party..maybe in the garden in summer?! It's on sale at one of my favourite e-tailers, Toast. If you can get your hands on it the asking price is currently 37GBP but who know it might go lower. Check it here.
images courtesy of anthropologie and toast
Filed under: Kitchen Tools | Tagged: aprons, kitchen fashion |