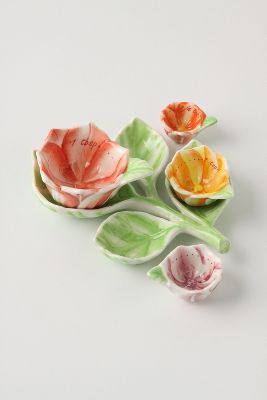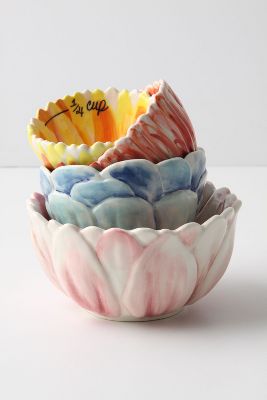 from anthropologie:
Plucked petals measuring spoons– $24
Florist measuring cups– $36
Anthropologie, Terrain and Urban Outfitters are all part of the same parent company and thankfully they provide stylish bits and bobs for a variety of budgets. While trawling these sites this week, I couldn't help but notice the wonderfully 'precious' items they all had on offer. Above Anthro offers a floral overload! These cheery and bright blooms will work in any coloured kitchen and add a great sense of whimsical fun.

from terrain:
Bird Trivet – $12
Eyelet Bowl – $24
A bit more with a farmhouse feel meets laser cut art, Terrain offers these wonderful eyelet and bird style cutouts in its current line.

from urbanoutfitters:
Marrakesh Bowl – $8 each of 4 for $20
Hearts Ice Tray– $8
The lower end of the price point, Urban Outfitters still maintains the quality and spirit of the precious elements. With delicate florals spilling over a china bowl and a heart shaped ice tray, the designs are fun, pretty and precious.
images from the respective stores featured
Filed under: Kitchen Tools | Tagged: Anthropologie, cooking, food, Kitchen Tools, precious pottery, Terrain, trivets, urban outfitters |